Welcome to Reception at Home
Hello to all my lovely reception friends and families,
I hope you are all well and keeping safe.
I have really enjoyed seeing some of the wonderful things you have been doing uploaded onto Weduc, it has definitely made me smile. It would be great if everyone could have a look on there as it's a great way to keep in contact with your friends and check out lots of wonderful ideas from teachers and other families.
I will be setting a weekly challenge up on here for you to have a go at. You can also message me directly with your fabulous work. I will then choose a star of the week and email you a certificate.
I am missing you all so much. It's a very strange time but I hope you're having lots of fun at home with your families.
Keep smiling; I will see you soon.
Sending BIG hugs!
Miss Needham
Message Reception here. Send us a copy of your work using the uploader.
The Oak National Academy
The Oak National Academy is an online classroom and resource hub created by teachers.
Their aim is to support teachers to support their pupils. They provide a bank of high-quality video lessons and resources for teachers to use as they wish, covering a range of subjects including maths, English, art and languages.
You can browse through the lessons as you like but you teacher might also direct you to a specific lesson as part of your weekly challenges.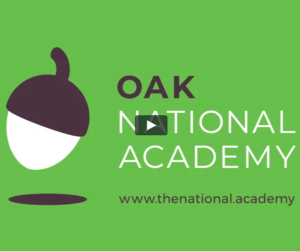 Government recommended resources