Welcome to our learning at home page.
Keep your eyes peeled for new challenges to complete which have been a mix of all of our curriculum areas. Thank you to those who have sent me some fantastic work using the comment box below. I've enjoyed admiring your wonderful creations and sharing some of these on the Weduc app so make sure you have downloaded it to see if your work is on there!
It's a strange time for us all, especially as you would be enjoying your last term at Atlas before making your transition to your new schools. Although we can't be together to enjoy this time, we can hope that we will be reunited in the near future to celebrate your time at our wonderful school. What a journey it has been for you all!
I hope you are keeping safe and can find time to complete your challenges or work packs to keep you busy. Don't forget to send me your work!
Missing every single one of you and hope to see you all very soon.
Take care,
Miss Plastow

You can message Year 6 and upload your work here
The Oak National Academy
The Oak National Academy is an online classroom and resource hub created by teachers.
Their aim is to support teachers to support their pupils. They provide a bank of high-quality video lessons and resources for teachers to use as they wish, covering a range of subjects including maths, English, art and languages.
You can browse through the lessons as you like but you teacher might also direct you to a specific lesson as part of your weekly challenges.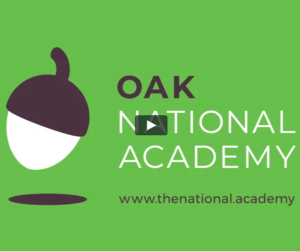 School recommended resources
Government recommended resources