A message for Year 4 from Mrs Parrinello James…
I hope you're all keeping safe, staying healthy and being happy.
In these strange times it is important that we remember to be kind and caring, which I know you all are.
Every day I check
Weduc
to see the amazing things you are achieving at home so keep uploading on there as it puts a smile on my face each day.
Each week I will set a series of challenges to complete and I would love to see all of the work you have been doing – I will reward certificates to those who are my 'home learners of the week'.
I can't wait to see how well you all do.
Keep smiling and stay safe,
Mrs Parrinello James
You can message Year 4 and upload your work here
The Oak National Academy
The Oak National Academy is an online classroom and resource hub created by teachers.
Their aim is to support teachers to support their pupils. They provide a bank of high-quality video lessons and resources for teachers to use as they wish, covering a range of subjects including maths, English, art and languages.
You can browse through the lessons as you like but you teacher might also direct you to a specific lesson as part of your weekly challenges.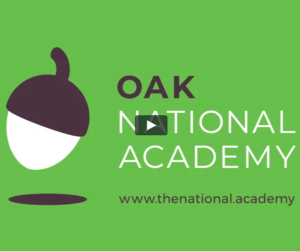 School recommended resources
Government recommended resources